PRODUCTS

SOLDER REFLOW OVENS FOR PRINTED CIRCUIT BOARD ASSEMBLY AND SEMICONDUCTOR PACKAGING
Pyramax Series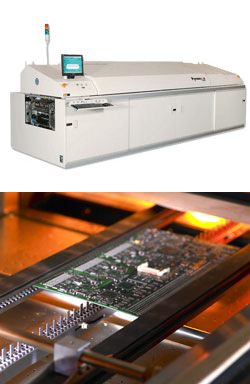 BTU is the global leader in convection reflow ovens and inline controlled atmosphere furnaces used for the production of electronics and electronic components. Typically these applications require high productivity and excellent process control. BTU's convection reflow ovens are used for printed circuit board assembly, semiconductor packaging, and LED assembly among other applications.
BTU's Pyramax™ family of high-throughput convection reflow ovens is widely recognized as the global standard of excellence for SMT solder reflow, semiconductor packaging and LED packaging and assembly.
Pyramax™ reflow ovens provide optimized lead-free processing for the ultimate in productivity and efficiency. BTU's exclusive closed loop convection control provides precise heating and cooling, programmable heat transfer, and reduced nitrogen consumption, adding up to the lowest Cost of Ownership in the industry. With 6, 8, 10 and 12-zone air or nitrogen models, 350°C maximum temperature and a comprehensive menu of options, Pyramax™ reflow ovens are the industry's most versatile performers and best value. For high-volume, high-mix manufacturers the Pyramax is now available as a dual chamber reflow oven – the ZeroTurn. The ZeroTurn eliminates recipe changeover time by allowing two different thermal profiles to be ready simultaneously.
The Pyramax features BTU's proprietary WINCON™ software, the world's most powerful oven control system. WINCON features a simplified user interface and incredibly powerful analytical capabilities. The latest versions of WINCON include BTU's cost-saving Energy Pilot feature as well as the RecipePro recipe generator platform. Energy Pilot and RecipePro allow users to minimize total Cost of Ownership. Energy Pilot reduces running costs automatically during idle times and RecipePro attacks set-up time by generating a starting recipe when setting up a new process.
BTU Solar Cell Metallization and Diffusion
Metallization Furnace

PV / PVD Series:
BTU offers the PVD line of contact drying/firing furnaces. The PVD comprises a complete line of Rapid Thermal Processing Furnaces utilizing near infrared heating technology. Systems come in varying lengths and widths to suit specific throughput requirements. The product line has been specifically designed for the solar cell metallization process and is used for contact drying and firing. Specialized features include rapid heating via densely spaced tungsten lamps and rapid cooling rates obtained through proprietary water cooling technology.
The PVD series furnaces combines the Rapid Thermal Processing of a PV Series Solar Cell Firing Furnace with a D-900 Series Dryer on the same belt. Combining drying and firing into one unit saves factory floor space and automation costs as solar cells go directly from the dryer into the furnace.
Lower cost solar cells are produced with faster processing speeds and improved equipment efficiency. With shorter processing time and faster belt speeds, one PVD Series integrated dryer/furnace processing a single lane of parts can produce up to 30 MW of solar cells per manufacturing line.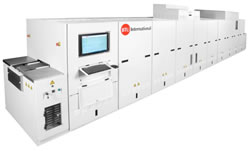 SinTerra: SinTerra, the latest technology for metallization drying and firing from BTU, offers outstanding value by providing high-performance heating and cooling technologies. SinTerra delivers the lowest Cost of Ownership with industry-leading uptime, unmatched process repeatability and competitive pricing. BTU follows a simple design philosophy; focusing on reliability, process repeatability and thermal performance
Dryer Furnace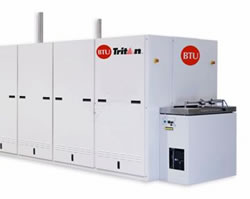 D Series :
Single dryer for drying metallization paste after screen printing, small footprint with IR heating ensures a completed drying performace.
In-line Diffusion Furnace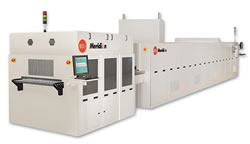 Meridian:
Phosphorus Diffusion is used in the manufacture of solar cells to create the emitter. Silicon wafers are coated with phosphoric acid fired at temperatures between 800oC and 1000oC to drive the phosphorus into the silicon creating the emitter.
Existing batch processes cannot keep pace with the cost pressure facing PV manufacturers today. BTU's solution is the Meridian™ In-Line Diffusion Furnace. The system can be configured to process up to 1,500 wafers per hour providing uniform and repeatable emitters. The Meridian™ in-line system offers reduced wafer handling and very low breakage rates. In the race to lower cost per watt, the shift to in-line processing puts users in a winning position.
In 2009 the Meridian™ was awarded the 'Industry Choice' International Solar Technology Award during a ceremony at the Intersolar Munich show in Germany. The International Solar Technology Awards are designed to acknowledge and recognize achievements in the creation and development of solar technology. Emphasis is placed on real-world technical advancements required throughout the supply chain to push solar power toward grid-parity without government subsidies. Each award category was judged by a panel of industry experts and the industry public, through online voting. For the 'Industry Choice' award, the definitive category for solar applications, the popular voting is double-weighted.
Thermal Processing Solutions

Fast Fire Furnaces for Thick Film Processing
Thick Film metallization is used to construct electrical circuits onto ceramic or metal substrates for automotive electronics, microelectronics packaging, resistive heaters, and passive circuit applications. In the process, a series of metal traces and up to 35 dielectric layers are created on the substrate using sintering and drying processes.
For manufacturing thick film circuits, passive components, precision resistors, component termination and many other applications, BTU offers the Fast Fire radiant heat furnace system.
Fast Fire furnaces provide reduced power usage by allowing for rapid heating and cooling between use. These systems provide excellent atmosphere flow for binder removal in thick film sintering, along with precision temperature control. In addition to the standard air atmosphere configuration, Fast Fire is also available for nitrogen processing with an option that allows for inert atmosphere operation. For cost-effective high temperature processing in air, Fast Fire is the choice.